SBM-200 M Power Hacksaw Machine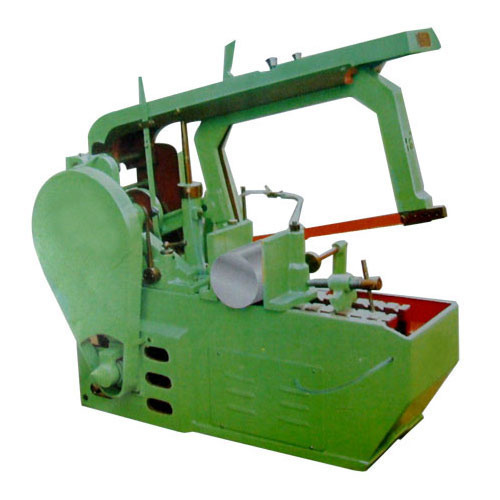 SBM-200 M Power Hacksaw Machine
Product Description
SBM-200 M Power Hacksaw Machine provided by our company, is designed and manufactured by making use of premium grade of raw materials and high techniques. This machine is mainly used for cutting larger sizes of metal with precision. This machine is highly known for its unique features like smooth functioning ability, high efficiency, long lasting, trouble free service, and high durability. It is very easy to use and can be easily availed at nominal rates, by our valued clients, in bulk quantities.
A SBM-200 power hacksaw machine is a mechanical cutting machine that utilizes a responding saw edge to slice through different materials, like metal, plastic, and wood. It is regularly utilized in businesses like metalworking, creation, and assembling for making straight cuts in work pieces. A power hacksaw machines might offer the capacity to make calculated cuts or slant cuts, yet this element might be restricted contrasted with particular machines. Power hacksaw machines are normally worked physically and don't offer programmable elements like CNC machines.
Advantages of SBM-200 M Power Hacksaw Machine:
Exact and straight cuts.
Reasonable for cutting hard materials.
Energy-proficient contrasted with manual hacksaws.
Could the machine at any point deal with various sizes and states of materials?
Many power hacksaw machines offer customizable tight clamp choices to oblige different material sizes and shapes.
Power Hacksaw Machine

Specification:
| | |
| --- | --- |
| Minimum Order Quantity | 1 Piece |
| Floor Space | 1550 X 575 X 875 mm (L X W X N) |
| Brand | Multicut |
| Model Name/Number | SBM-200 M |
| Blade Size | 3000 X 27 X 0.9 mm |
| Coolant Motor | 0.14 HP |
| Coolant Tank Capacity | 40 L |
| Cutting Capacity | 200 mm (Round Bar) and 200 X 200 mm (Square Bar) |
| Cutting Speed | 24 - 76 (m/min.) |
| Weight | 410 Kg |
| Main Drive (1440 Rpm.) | 1 HP |
| Hydraulic Motor (1440 Rpm.) | 0.5 HP |
FAQs of SBM-200 M Power Hacksaw Machine:
What is a power hacksaw machine utilized for?
A power hacksaw machine is utilized for making straight cuts in materials like metal, plastic, and wood. It is particularly helpful for cutting hard and intense materials.
How does a power hacksaw machine work?
The machine includes a responding saw sharp edge that moves to and fro to slice through the workpiece put in a tight clamp.
What kinds of materials can be cut utilizing a power hacksaw machine?
Power hacksaw machines are essentially intended for cutting metals, yet they can likewise be utilized to cut plastics and different materials with suitable edges.
What security highlights are regularly remembered for a power hacksaw machine?
Security elements might incorporate cutting edge monitors, crisis stop buttons, defensive fenced in areas, and wellbeing interlocks to guarantee administrator wellbeing.
Is preparing expected to work a power hacksaw machine?
Yes, appropriate preparation is fundamental for protected and proficient activity. Administrators ought to be prepared on machine arrangement, activity, support, and wellbeing conventions.
What support is expected for a power hacksaw machine?
Customary upkeep incorporates cleaning, grease, edge investigation, and guaranteeing all parts are working accurately.
Is the machine reasonable for high-volume creation?
Power hacksaw machines are much of the time more qualified for medium to low-volume slicing errands because of their manual activity and more slow slicing speed contrasted with completely computerized machines.
Are there various edge types for cutting various materials?
Yes, different edge types with various tooth designs are utilized for cutting various materials really.
What elements ought to be thought about while choosing a power hacksaw machine?
Consider factors, for example, the sorts of materials you'll be cutting, the expected cutting limit, accessible space, administrator expertise level, and your creation volume.