Multicut Band Saw Blade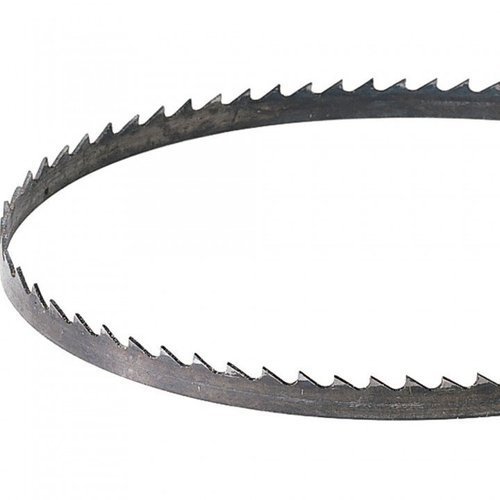 Multicut Band Saw Blade
Product Description
A Multicut Band Saw Blade is used for production cutting of large solid pieces of tool steel stainless steel, hastelloy, titanium and cobalt-based materials. The choice of the band saw blade largely depends upon the material to be cut, type of cut and the cross-section of the work piece. Band saw blade for metal cutting. If you want to cut-off the metal to size, then you are going to want to equip your horizontal band saw with a hook tooth style blade. This product is made for commercial applications.
"Multicut" is a term that is normally used to depict a kind of band saw blade intended for flexibility and the capacity to cut many materials. A multicut band saw blade is designed to deal with different cutting applications, making it reasonable for cutting various kinds of materials like metal, wood, plastics, and that's just the beginning. It is much of the time utilized in studios, fabricating offices, and ventures where a solitary blade is wanted for cutting various materials.
Multicut Band Saw Blade Specification
Loop Type: Open Loop
Material: Stainless Steel
Finishing: Coated
Width: 1- 2 inch
FAQs of Multicut Band Saw Blade:
What is a multicut band saw blade?
A multicut band saw blade is a flexible slicing device intended to cut various materials, offering effectiveness and comfort by disposing of the need to habitually change blades.
What sorts of materials can be cut utilizing a multicut band saw blade?
Multicut band saw blades are intended to cut various materials, including metals (ferrous and non-ferrous), plastics, wood, and in some cases even composite materials.
What are the upsides of utilizing a multicut band saw blade?
Flexibility: One blade can deal with numerous materials, diminishing the requirement for blade changes.
Time and Cost Reserve funds: Limits free time spent on changing blades and lessens blade stock.
Accommodation: Ideal for studios or offices that work with different materials.
Are multicut band saw blades appropriate for accuracy cutting?
While multicut blades offer adaptability, their accuracy might shift relying upon the particular material and cutting undertaking. Particular blades could offer better accuracy for explicit applications.
Do multicut band saw blades require explicit changes for various materials?
Some multicut blades could require changes, for example, changing the blade speed, feed rate, or pressure to improve cutting execution for various materials.
Are there various sorts of multicut blades accessible?
Indeed, multicut blades come in different tooth plans, pitches, and setups advanced for various materials.