High Speed Band Saw Blade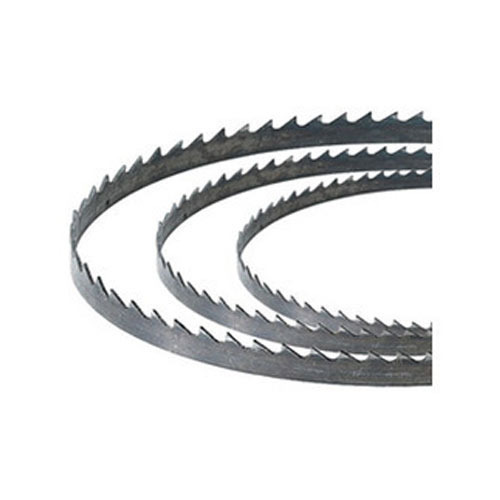 High Speed Band Saw Blade
Product Description
Stainless steel made High Speed Band Saw Blades are offered with HSS or M42 alloy steel surface finish. Silver in color, these have open loop type design. These have been produced by following advanced welding and sintering technology. These blades can be used for wet and dry cutting purpose. Teeth number of such blades ranges between 140 to 144. Offered products are reckoned for their long lasting quality, reasonable price and ergonomic appearance. These blades have long working life.
A high-speed band saw blade is a specific cutting instrument intended for quick and productive cutting of different materials, commonly at higher speeds than standard band saw blades. These blades are designed to deal with high cutting speeds while keeping up with accuracy and execution. They are generally utilized in modern settings where it are essential to cut speed and efficiency.
Special attributes of High Speed Band Saw Blade:
These are accessible in open loop type design.
Maximum 144 cutting teeth
Application of sintering and welding methodologies
Available in silver color
Advantages of High Speed Band Saw Blade:
Quick and precise cutting method
High speed cutting technique without affecting teeth quality
Suitable for dry and wet cutting

User friendly design

Sped up for higher efficiency.

Diminished cutting time and further developed proficiency.
Improved heat scattering and decreased workpiece mutilation because of quicker cutting.
High Speed Band Saw Blade Specification:
Material: Stainless Steel
Material Quality: M42/HSS alloy steel finish
Loop Type: Open Loop
FAQs of High Speed Band Saw Blade:
What is a high-speed band saw blade?
A high-speed band saw blade is a slicing device intended to work at raised cutting speeds, taking into consideration quicker and more proficient cutting of materials.
What sorts of materials can be cut utilizing a high-speed band saw blade?
High-speed band saw blades can cut a great many materials, including metals (both ferrous and non-ferrous), plastics, and once in a while wood.
Are high-speed band saw blades appropriate for accuracy cutting?
High-speed blades can offer accuracy cutting relying upon the material and the particular blade plan. A few blades might have specific tooth calculations for exact cuts.
Do high-speed band saw blades require unique changes for various materials?
Contingent upon the material being cut, changes, for example, blade speed, feed rate, and coolant use might be important to streamline cutting execution.