S-440R Bandsaw Cutting Machine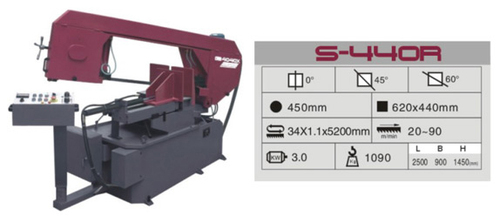 S-440R Bandsaw Cutting Machine
Product Description
With holding about two decades of experience in the respective domain, we are affianced in offering our valuable clients optimum quality Bandsaw Cutting Machine. This machine comprises corrosion proof divesting cabinet that is widely used in different types of engineering and automobile industries for several metal cutting purposes. Our offered Bandsaw Cutter Machine is manufactured using the finest quality components under strict industry laid norms at our highly advanced production unit.
S-440R Bandsaw cutting machine is a flexible and broadly involved piece of hardware in different ventures for cutting different materials, like metal, wood, plastic, and that's just the beginning. It works utilizing a consistent band saw edge with teeth that pivot around two wheels, taking into consideration proficient and exact cutting.
Features of S-440R Bandsaw Cutting Machine:
Easy operations
Long lasting life
Simple installation
Hassle-free performance
Specifications of S-440R Bandsaw Cutting Machine:
Dimensions (LxBxH): 2500 x 900 x 1450
Material: Mild Steel
Benefits of Bandsaw Cutting Machinel:
Exact and straight cuts.
Capacity to make perplexing bended cuts.
Adaptability for cutting various materials.
Diminished squander contrasted with other cutting techniques.
FAQs of S-440R Bandsaw Cutting Machine:
What is a bandsaw cutting machine utilized for?
A bandsaw cutting machine is utilized to cut materials into explicit shapes, lengths, or sizes. It is usually utilized in metalworking, carpentry, and different businesses.
How does a bandsaw cutting machine work?
The machine's saw edge goes in a persistent circle around two wheels, and the material is directed into the cutting edge for cutting.
What kinds of materials can be cut utilizing a bandsaw cutting machine?
Bandsaw cutting machines are flexible and can cut a large number of materials, including metal, wood, plastic, froth, and then some.
Could the machine at any point be customized for explicit cutting undertakings?
Some bandsaw cutting machines might offer programmable elements for precise and repeatable cutting errands, particularly in further developed models.
What support is expected for a bandsaw cutting machine?
Customary upkeep incorporates cleaning, grease, cutting edge examination, and guaranteeing all parts are working accurately.
Is the machine reasonable for high-volume creation?
Contingent upon its plan and capacities, a bandsaw cutting machine might be reasonable for high-volume cutting applications. Check with the producer for subtleties.
Trade Information
Vadorda

Cash in Advance (CID)
Australia, North America, Eastern Europe, Africa, Central America, Middle East, South America, Western Europe, Asia

All India